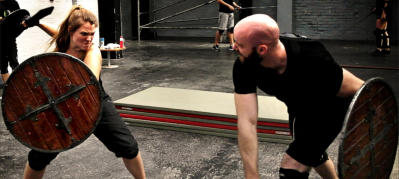 LEVEL-2-INTERMEDIATE
This course builds on the previous level of
training by introducing students to weapon
disciplines that require heightened
coordination. Students will be taught to
handle one of the largest weapons used on
stage through to one of the most complex.

LEVEL-3-ADVANCED
This is our most challenging level. Other
performance combat systems just add
additional weapon systems (some that are
never used on stage). At level-3 two new
systems are introduced, but we revisit
previous systems from the view of combating
multiple opponents. STAGEFIGHT are the
only
school that offers multiple opponent
combat at advanced level.






Our unique approach to teaching stage combat has
helped us to become one of the UK's leading
performance combat training schools. All our
courses meet and exceed the levels of safety and
standards of tuition of any other stage combat system
and has become an industry respected and accepted
qualification.
Training with STAGEFIGHT focuses on practical
elements that make choreographed fight routines
much safer and far more dynamic. Our proven
techniques provide a highly adaptable system that has
helped place many of our students into combat roles
for both stage and screen productions.
LEVEL-1-STANDARD
Our foundation level course introduces three of
the most commonly used stage combat
disciplines; UNARMED COMBAT, DAGGER
and SINGLE-SWORD. The level-1 course also
helps to improve balance, coordination and
stagecraft.
REQUIREMENTS
Our stage combat qualifications courses are
open to students 18+ years. Due to the nature
of the training students should have a
reasonable level of fitness and mobility. No
previous martial arts or stage combat training
is required to join our Level-1-Basic course.
Level-2-Intermediate isonly available to
students who have successfully completed their
ECSPC Level-1-Basic qualification. Level-3-
Advanced is only available to students who
have successfully completed their Level-2-
Intermediate.
Due to the nature of all stage combat training
regular attendance throughout the course
(weekly and intensives) is essential for success.
Please read our terms and conditions before
booking onto any course.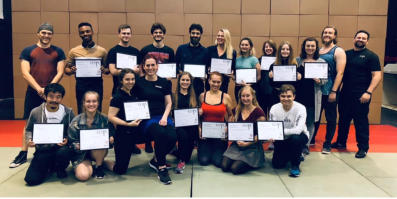 www.stagefight.co.uk
Tel: 07813 308672 / Email: info@stagefight.co.uk
© Copyright 2022| All rights reserved.